In My Mailbox was started by Kristi from The Story Siren. On it, we will post the books we have gotten this week from the library, the bookstore, the mail, a friend that leant it to us, and any other ways that we manage to get a book from.
In Shakespeare's Muse's Mailbox: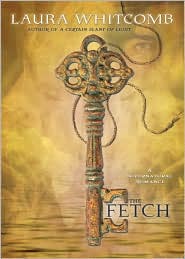 The Fetch by Laura Whitcomb

Calder is a Fetch, a death escort, the first of his kind to step from Heaven back to Earth. The first to fall in love with a mortal girl.
But when he climbs backwards out of that Death Scene, into the chaos of the Russian Revolution, he tears a wound in the ghost realm, where the spirits begin a revolution of their own.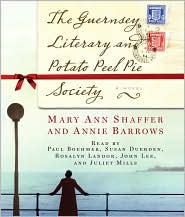 The Guernsey Literary and Potato Peel Pie Society by Mary Ann Shaffer and Annie Barrows (not strictly YA Fiction, but it somehow fell into my possession this week. I may or may not read it.)
January 1946: London is emerging from the shadow of the Second World War, and writer Juliet Ashton is looking for her next book subject. Who could imaging that she would find it in a letter from a man she'd never met, a native of Guernsey, the British island once occupied by the Nazis. He'd come across her name on the flyleaf of a secondhand volume by Charles Lamb. Perhaps she could tell hum where he might find more books by this author.
As Juliet and her new correspondent exchange letters, she is drawn into the world of this man and his friends, all members of the Guernsey Literary and Potato Peel Pie Society, a unique book club formed in a unique, spur-of-the-moment way: as an alibi to protect its members from arrest by the Germans.
Juliet begins a remarkable correspondence with the Society's charming, deeply human members, from pig farmers to phrenologists, literature lovers all. Through their letters she learns about their island, their taste in books, and the powerful, transformative impact the recent German occupation has had on their lives. Captivated by their stories, she sets sail for Guernsey, and what she finds will change her forever.
And last but most anticipated, we have:
Fire by Kristin Cashore

It is not a perfect time in the Dells.

Young King Nash clings to the throne, while rebel lords, in the north and south, build armies to unseat him. War is coming. The mountains and forests are filled with spies and thieves.

This is where Fire lives, a girl whose startling appearance is impossibly irresistible and who can control the minds of everyone around her.

Everyone...except Prince Brigan.
(OUT IN OCTOBER '09)
In Elise's Mailbox:
Switch by Carol Snow

Not much happens in Claire's sleepy beach town, but that's okay. All she wants is to hang out with her best friend, make the high school swim team, and convince Nate, the guy of her dreams, to stop calling her "Dude." And, oh—she'd really, really like to stay in her own skin.
Ever since Claire hit her teens, electrical storms have been making her switch bodies. Usually she's back to her old self in no time. But when something goes terribly wrong, she finds herself stuck as another girl. And not just any girl, but the icy beauty who has caught Nate's eye.
Suddenly Claire goes from being Miss Average to Miss Gorgeous—the model-thin blonde that every girl wants to look like and every guy wants to date. Will she ever figure out how to get back to her old life? More importantly, will she want to?