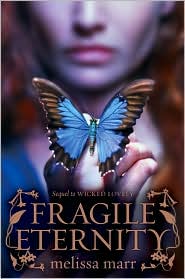 Fragile Eternity
by Melissa Marr, the Third Tale of Faerie
Synopsis:
Seth never expected he would want to settle down with anyone--but that was before Aislinn. She is everything he'd ever dreamed of, and he wants to be with her forever. Forever takes on a new meaning, though, when your girlfriend is an immortal faery queen.
Aislinn never expected to rule the very creatures who'd always terrified her--but that was before Keenan. He stole her mortality to make her a monarch, and now she faces challenges and entices beyond anything she'd ever imagined.
Ratings:
Character Development: 9/10
Originality: 10/10
Overall Enjoyment: 8/10
Ending: 8/10
Voice: 8/10
Setting: 8/10
Recommendation: 8/10
Total Score: 59
Grade:

A
Age Appropriate?
Cussing:
Some. Not offensive.
Drugs, Alcohol, etc:
Some drinking. Not much.
Sexual Content:
Several scenes, though nothing "R" rated. Lust is a theme throughout.
Disturbing Images:
Nothing.
Aimed at ages 15+.
Review:
This series is truly fantastic. The writing is well-done and heartfelt, and I feel for the characters in their tangled situations. In this third Tale of Faerie, Melissa Marr focuses on emotions of her main characters: Aislinn and Seth, and Keenan and Donia. Each is caught between politics, love, eternity, and inevitability. Aislinn loves Seth; Seth loves Aislinn. Seth will die; Aislinn will not. Aislinn is inexplicably drawn to her king, her other half, Keenan; Keenan won't stop wooing her for the benefit of their court. Donia loves Keenan; Keenan loves Donia; Winter and Summer can't love each other and survive. And all the while we witness these four important members of the faery courts fight and speak through matters of politics, for the benefit of their respective courts.
Marr's third book highlights the complications of being immortal and the price for eternity, no matter your situation. It is more symbolic than its sequels, where War and Reason and Darkness become tangible characters and things are not what they seem. We delve into the High Court this time and discover its secrets in all its strangeness. We watch as the characters we had loved in the past change into things we aren't yet sure we can love yet.
Though I felt this was an excellent addition to the Tales of Faerie, it felt odd reading it. I felt like I was hurrying to finish it, to get it done, to bypass the pages upon pages and chapters upon chapters of the same emotions, the same doubts, the same hesitations. Often the same words. The ending was abrupt; it left a wide cliffhanger hanging open, so obvious and so important. There are more matters of state and less romance or the establishing of relationships, and thus it was more boring at parts. I'm not sure if it was the timing or the setting of when I was reading it, but I didn't get quite as into
Fragile Eternity
as I did with the prequels. But still--Melissa Marr fans, definitely give this one a try!