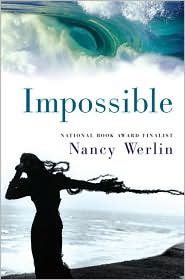 Synopsis:
Lucy Scarborough is seventeen when she discovers that the women of her family have been cursed through the generations, forced to attempt three seemingly impossible tasks or to fall into madness upon their child's birth. How can Lucy succeed when all of her ancestors have tried and failed? But Lucy is the first girl who won't be alone as she tackles the list. She has her fiercely protective foster parents beside her. And she has Zach, whose strength amazes her more each day. Do they have enough love and resolve to overcome an age-old evil?
Inspired by the ballad "Scarborough Faire", this spellbinding novel combines suspense, fantasy, and romance for an intensely page-turning and masterfully original tale.
Rating:
Character Development: 10/10
Originality: 10/10
Overall Enjoyment: 9/10
Ending: 10/10
Voice: 10/10
Setting: 8/10
Recommendation: 9/10
Total Score: 66/70
Grade:

A+
Age Appropriate?
Cussing:
Some.
Drugs, Alcohol, etc:
No.
Sexual Content:
Rape of the main character during which the reader is quite present; some scenes, nothing too explicit.
Disturbing Images/Violence:
Insanity; teen pregnancy.
Aimed at at 16+.

Review:
Impossible
was a strange, terrible unique book--and all the better for it. So many aspects of it were unconventional and surprising. The plot was developed in such a way that, while complication after complication occurred, I never disbelieved the characters or the story. Werlin took a different standpoint on magic, as well. Although this brand of magic was important throughout, I hesitate to call
Impossible
a fairy tale or fantasy. Throughout the novel, it is an evil, "Other" thing and is not even the focus of the story. This never changes, all the way through the end. Magic affects, but is not the point of, these events.
Impossible
proves, with all its reality and discord, that magic can be less clever than it first appears, and the mundane and technology have their own kind of power.
I was amazed at Werlin's characterization of Lucy (protagonist). Her actions and reactions were totally believable, but also engaging and fascinating. Characters such as Zach, Soledad, and Miranda also had fantastically detailed and suitable histories that only added to the overall experience of reading this book. Written in third-person omniscient, we come to know all of the characters from within their own minds, and this makes the setting much more intimate. The reader is never in doubt or left guessing. Somehow, this added to the realism of the story as we realized the flaws involved in all parties--even the bad guys.
Werlin's writing is eloquent, true, and human. It shows a thoughtful respect for women and an appreciation of their strength in this coming-of-age novel.
Impossible
was a beautiful, thoughtful, dark, and weighty story that the reader can come away from feeling at once more cynical and more optimistic than when they began, but most of all knowing that where there is love, it is possible to heal.