In My Mailbox is hosted by Kristi from The Story Siren. On it, we will post the books we have gotten this week from the library, the bookstore, the mail, a friend that leant it to us, and any other ways that we manage to get a book from.

IN ELISE'S MAILBOX:
Cross my Heart and Hope to Spy
by Ally Carter
From: paperbackswap
Cammie Morgan may have a genius IQ and attend the best school in the country, but as she starts the spring semester of her sophomore year there are a lot of things she doesn't know. Like will her ex-boyfriend even remember she exists? And how much trouble did she really get in last semester? And, most of all, exactly why is her mother acting so strangely?
All Cammie wants is a nice, normal semester, but she's about to learn her greatest lesson yet—that when you go to a school for spies, nothing is ever as it seems.
The Tales of Beedle the Bard by J.K. Rowling
Finally got this! From: Recycled Book Store
The Tales of Beedle the Bard, a Wizarding classic, first came to Muggle readers' attention in the book known as Harry Potter and the Deathly Hallows. Now, thanks to Hermione Granger's new translation from the ancient runes, we present this stunning edition with an introduction, notes, and illustrations by J. K. Rowling, and extensive commentary by Albus Dumbledore.
Moonlight by Rachel Hawthorne
From: Barnes and Noble
Kayla has always felt a kinship with nature. Adopted as a child, Kayla has no idea that she's inherited the gene that will turn her into a wolf. She can't understand why she's so drawn to distant, aloof Lucas...
As the leader of the Dark Guardians, a pack of werewolves that gather in the national forest, Lucas must watch Kayla until she discovers her destiny as his perfect other half. Just when Kayla finally begins to understand her fate, a new danger emerges...one that threatens their very existence.

IN SHAKESPEARE'S MUSE'S MAILBOX: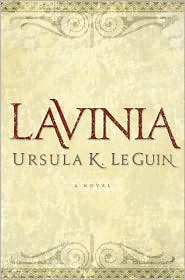 Lavinia by Ursula K. LeGuin
From: Library
In The Aeneid, Vergil's hero fights to claim the king's daughter, Lavinia, with whom he is destined to found an empire. Lavinia herself never speaks a word in the poem. Now Ursula K. LeGuin gives her a voice in a novel that takes us to the half-wild world of ancient Italy, when Rome was a muddy village near seven hills.

Lavinia grows up knowing nothing but peace and freedom, until suitors come. Her mother demands that she marry handsome, ambitious Turnus. But omens and prophecies spoken by the sacred springs say she must marry a foreigner--that she will be the cause of a bitter way--and that her husband will not live long. When a fleet of Trojan ships sails up the Tiber, Lavinia decides to take her destiny into her own hadns. And so she tells us what Vergil did not: the story of her life, and the love f her life. "Lavinia" is a book of passion and war and the cost of war, generous and austerely beautiful, from a writer working at the height o her powers.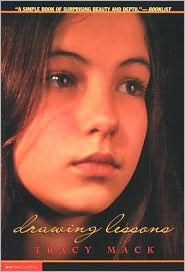 Drawing Lessons
by Tracy Mack
From:
Library
Aurora is an artist, like her father. Through years of drawing lessons, he has taught her about light and color, perspective and form. The great thing about art, Rory thinks, is you can bring back something you've lost and keep it forever. But when her father leaves the family, it's Rory who is lost.

In this exquisite first novel, a young girl must find her own way of creating, her own way of connecting, her own way of being.
Drawing Lessons
will open your eyes and pierce your heart.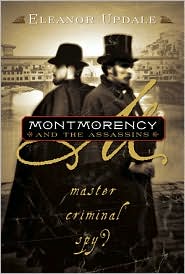 Montmorency
by Eleanor Updale
From:
Library
When a petty thief falls through a glass roof in his attempt to escape from the police, what should have been the death of him marks the beginning of a whole new life. After his broken body is reconstructed by an ambitious young doctor, he is released from prison, and--with the help of Victorian London's sewer system--he becomes the most elusive burglar in the city. He adopts a dual existence as a respectable, wealthy gentleman names Montmorency, and his degenerate servant Scarper. But Montmorency must always be on guard. The smallest mistake could ruin both his lives.
Daughter of the Forest
, book one of The Sevenwaters Trilogy by Juliet Marillier
From:
Library
Lord Colum of Sevenwaters is blessed with six sons: Liam, a natural leader; Diarmid, with his passions for adventure; twins Cormack and Conor, each with a different calling; rebellious Finbar, grown old before his time by his gift of the Sight; and the young, compassionate Padriac.

But it is Sorcha, the seventh child and only daughter, too young to have known her mother, who alone is destined to defend her family and protect her land from the Britons and the clan known as Northwooods. For her father has been bewitched, nad her brothers bound by a spell that only Sorcha can lift.

To reclaim the lives of her brothers, Sorcha leaves the only safe place she has ever known, and embarks on a journey filled with pain, loss, and terror.

When she is kidnapped by enemy forces and taken to a foreign land, it seems that there will be no way for her to bereak the spell that condemns all that she loves. But magic known no boundaries, and Sorcha will have to choose between a life she has always known and a love that only comes once.
The Thirteenth Tale
by Diane Setterfield
From:
Library
All children mythologize their birth...
So begins the prologue of reclusive author Vida Winter's collection of stories, which are as famous for the mystery of the missing thirteenth tale as they are for the delight and enchantment of the twelve that do exist.

The enigmatic Winter has spent six decades creating various outlandish life histories for herself--all of them inventions that have brought her fame and fortune but have kept her violent and tragic past a secret. Now old and ailing, she at last wants to tell the truth about her extraordinary life. She summons a biographer Margaret Lea, a young woman for whom the secret of her own birth, hidden by those who loved her most, remains an ever-present pain. Struck by a curious parallel between Miss Winter's story and her own, Margaret takes on the commision.

As Vida disinters the life she meant to bury for good, Margaret is mesmerized. It is a tale of gothic strangeness featuring the Angelfield family, including the beautiful and willful Isabelle, the feral twins Adeline and Emmeline, a ghost, a governess, a topiary garden and a devastating fire.

Margaret succumbs to the power of Vida's storytelling but remains suspicious of the author's sincerity. She demands the truth from Vida, and together they confront the ghosts that have haunted them while becoming, finally, transformed by the truth themselves.