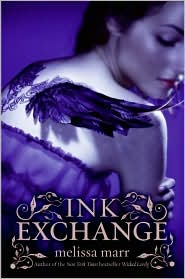 Ink Exchange
by Melissa Marr, the Second Tale of Faerie
Synopsis:
Seventeen-year-old Leslie knows nothing of faeries or their shadowy power struggles. When she is attracted to an eerily beautiful tattoo, all she knows is that she has to have it, convinced that it is a tangible symbol of changes she desperately craves for her own life.
The tattoo
does
bring changes--not the kind that Leslie dreamed of, but sinister, compelling changes that bind Leslie to Irial, a dark and dangerous faery king fighting for the soul of his court. Slowly, Leslie is drawn deeper and deeper into the faery world, unable to resist its allures, and helpless to withstand its perils...
Ratings:
Character Development: 6/10
Originality: 10/10
Overall Enjoyment: 8/10
Ending: 10/10
Voice: 9/10
Setting: 8/10
Recommendation: 7/10
Total Score: 58/70
Grade:

A
Age Appropriate?
Cussing:
Some. Not very frequent or offensive.
Drugs, Alcohol, etc:
Frequent drug usage (by secondary characters mostly), drinking, and smoking are all
very
prevalent throughout.
Sexual Content:
Yes, many scenes. Rape.
Disturbing Images/Violence:
Mentions and memories of rape, can be uncomfortable.
Aimed at 15+.
Review:
Unlike its prequel,
Ink Exchange
is very dark and dirty. Leslie lives in horrible conditions, and is surrounded by drugs and that sort of thing every day. Prior to the beginning of the novel, she had been raped, and we hear about this a lot. Though these things added depth to the story and were of utmost importance, I liked the overall feeling of
Wicked Lovely
better.
One of the main reasons I felt this didn't live up to the standards of
Wicked Lovely
probably had something to do with my distaste for Irial. The Dark Faery King becomes prominent in this one, and Marr tells the story through his perspective quite frequently. I disliked his nature and his voice, to the point where I didn't care about his emotions or reactions, regardless of whether they were right or not. Leslie didn't help much, either--some of the choices she made made me think of her as unwise or stupid, not something you want to think about your hero.
But aside from all of this, the writing was just as fantastically done as in book one. I read the whole thing through without stopping once, and was happy I'd done so--the ending is perfect for the story. Melissa Marr has a gift for this, it seems. Although I am anxious for the next book, I am satisfied for the mean time and not tearing my hair out over cliffhangers.
Ink Exchange
was surprising to me: Aislinn and Keenan and Seth all take smaller roles this time around, shifting the focus from the Summer Court to the Dark Court. Characters we never thought to care about come forward and steal our hearts or make us snarl. People like Niall, Irial, Rabbit the tattooist and his sisters, Ani and Tish. Suddenly, their story seems so much more important.
If you enjoyed
Wicked Lovely,
I insist that you continue on with the series. Though
Ink Exchange
was not Melissa Marr's best work, I am sure
Fragile Eternity
, the next Tale of Faerie, will blow us all away.