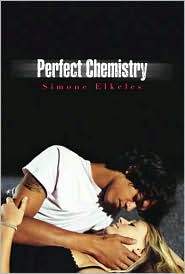 Synopsis:
A fresh, urban twist on the classic tale of star-crossed lovers.
When Brittany Ellis walks into chemistry class on the first day of senior year, she has no clue that her carefully created "perfect" life is about to unravel before her eyes. She's forced to be lab partners with Alex Fuentes, a gang member from the other side of town, and he is about to threaten everything she's worked so hard for—her flawless reputation, her relationship with her boyfriend, and the secret that her home life is anything but perfect. Alex is a bad boy and he knows it. So when he makes a bet with his friends to lure Brittany into his life, he thinks nothing of it. But soon Alex realizes Brittany is a real person with real problems, and suddenly the bet he made in arrogance turns into something much more. In a passionate story about looking beneath the surface, Simone Elkeles breaks through the stereotypes and barriers that threaten to keep Brittany and Alex apart.
Rating:
Character Development: 10/10
Originality: 6/10
Overall Enjoyment: 8/10
Ending: 10/10
Voice: 9/10
Setting: 9/10
Recommendation: 9/10
Total Score: 61/70
Grade:

A+
Age Appropriate?
Cussing:
Very frequently, in both narration and speech.
Drugs, Alcohol, etc:
Yes. One main character uses drugs at one point and smokes on a regular basis. Both of them have their respective drinking scenes.
Sexual Content:
Yes. Completely. There are many, many, many conversations, many flashbacks, one real scene, lots of thoughts and narration. For a mature audience.
Disturbing Images/Violence:
Beatings, murder.
Aimed at ages 16+.
Review:
At first, I was ashamed that I liked this book so much. Then I was ashamed that I was ashamed because for a lot of people, this is reality. Gangs, guns, drugs, slums. Constant fear. Screwed-up home lives. Masking the truth. All things that are out there, prominent, in the world.
This book is about a society divided between north and south, rich and poor. It is proof that people from very different backgrounds can shed their facades and layers to find that underneath, they are all too similar. It is about attraction and falling in love, with all the worst kinds of complications. It is about teenagers asked to take on responsibilities they shouldn't have to face, and about setting aside prejudice for love. Elkeles portrays the struggle of two polar-opposite teens, Alex Fuentes and Brittany Ellis, with harsh emotions and simple truths, in a town where outward appearances are everything and secrets are bigger than words.
The setting of
Perfect Chemistry
was amazingly adequate. Though the idea may seem simple, Elkeles explores the layers involved in a town everyone knows is split in two and no one cares to change. Things for Alex and Brittany are never just black and white, but every hue in between. Elkeles leads us to discover this through the eyes of confused, not entirely innocent teenagers.
I found the writing and plot line enchanting. It was a thoroughly grounded story, a mix of
Grease, Romeo and Juliet,
and Elkeles' brilliance.
All
teenagers should read this book and explore truths about first impressions, first love, first loss, and first everything else. Throughout
Perfect Chemistry
, it's easy to see a bit of screwed-up Fairfield in every town, a bit of screwed-up Alex or Brittany in every one, and a bit of the good sides of both of these everywhere in this story that annihilates all stereotypes and exceeds all expectations.