Sacred Scars
by Kathleen Duey (Book 2 in
The Resurrection of Magic Trilogy
)
IN STORES AUGUST 4th, 2009!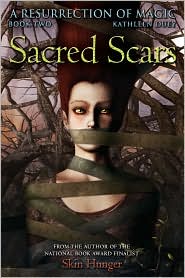 Synopsis:
In the second volume of the Resurrection of Magic trilogy, Somiss, exiled and desperate, hoards the magic he is recovering from ancient documents while Sadima and Franklin struggle to contain his egomaniacle ambitions. They secretly record the magic, hoping to share it with humankind, in order to end the historic cycles of bloody, civilization-destroying wars between kings and wizards.
Two hundred years later, Hahp and Gerrard, students at Somiss's brutal academy, endure the painful ordeals used to "teach" magic. Their tenuous pact, forged for survival, falters as they plot to destroy Somiss, the school...and to set magic free.
Rating:
Character Development: 10/10
Originality: 9/10
Overall Enjoyment: 10/10
Ending: 7/10 (It was the second book in the series, and while I respect that the ending can't reveal all--Gah! Cliffhangers!)
Voice: 10/10
Setting: 9/10
Recommendation: 10/10
Total Score: 65/70
Grade:
A+
Age Appropriate?
Cussing:
Frequent, but it adds character to the novel. Could be offensive.
Drugs, Alcohol, etc:
None.
Sexual Content:
Some. Mentioned throughout, but no real scenes. Some narration regarding the human anatomy. Implied same-sex child abuse.
Disturbing Images/Violence:
Yes, very much. Graphic murder, implied rape, implied child abuse, some graphic imagery regarding castration, mentions prostitution.
(Unless you have a real problem with some of these things, don't let it deter you from reading Sacred Scars--each of these is very brief and very blunt and not the least bit shameful.)
Aimed at ages 14+.
Review:
Sacred Scars
was the kind of book that feels almost too real as you're reading it—addictive and three-dimensional. The writing was simply superb, perfectly blatant and unforgiving when it came to delicate issues. Like
Skin Hunger
(the prequel), we follow two stories throughout the novel, alternating chapters. One, the story of Sadima, the strong hearted girl caught up in cruelty and magic and torn between her love of a man and her hatred of his master, Somiss. The second is set two hundred years later, the story of Hahp, an unfortunate student in the so-called "school" for prospective magicians that is in fact a disturbing kind of slaughterhouse for these boys, run by the very same Somiss that Sadima hated centuries before. The stories are beautifully intertwined, but hopelessly so. As you become engrossed in the events of Sadima's life, you also see the parallels that exist in the future, where it all ends up, and it is disheartening to say the least. But at the same time, you know that there is still so much left to discover in these artful pages. So you read on.
The themes of this book are heavy and emotional. Pain, instinct, survival, fear—these things are prevalent throughout. The feelings, thoughts, and experiences are raw and open to the reader, especially Hahp's as he fights his way through the breathtakingly vivid and horrific school. Sadima's experiences are similarly absorbing, yet both of these characters have remarkably different voices that are equal in quality. Duey manages to convey their confusion, fear, and anguish without puzzling or losing the reader amidst a torrent of repeated emotions.
Overall, Sacred Scars was just as good—if not, better—than Skin Hunger. I strongly urge you to read this series if you like books that explore and express a huge spectrum of emotion, from darkest hate and pain to the best kind of love and freedom, all the while demonstrating a deep knowledge of humanity, and, of course—magic!