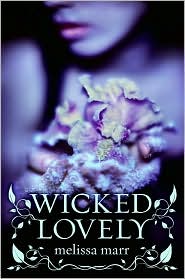 Wicked Lovely
by Melissa Marr, the First Tale of Faerie
Synopsis:
Rule #3: Don't stare at invisible faeries.
Rule #2: Don't speak to invisible faeries.
Rule #1: Don't ever attract their attention.
Aislinn has always seen faeries. Powerful and dangerous, they walk hidden in the mortal world. When the rules that have kept Aislinn safe from them stop working, everything is suddenly on the line: her freedom; her best friend, Seth; her life;
everything
.
Faery intrigue, mortal love, and the clash of ancient rules and modern expectations swirl together in Melissa Marr's stunningly twenty-first century faery tale.
Ratings:
Character Development: 7/10
Originality: 9/10
Overall Enjoyment: 9/10
Ending: 10/10
Voice: 8/10
Setting: 10/10
Recommendation: 9/10
Total Score: 62/70
Grade:

A+
Age Appropriate?
Cussing:
Some.
Drugs, Alcohol, etc:
Drugs are there but not used by the main characters. Some alcohol usage.
Disturbing Images/Violence:
Nothing too disturbing, or I would remember it.
Aimed at 15+.
Review:
An excellent start to a promising series! Marr creates characters to love and be proud of, in a setting that is both terrifying and frustratingly unknown. Throughout the book, I wanted to know so much more about the world of faeries, so much that Aislinn, our protagonist, doesn't know. I suppose we'll learn much more in the books to come, but I was disappointed by the lack of exploration.
However, Aislinn more than made up for my disappointment. How many books have you read that begin with an overwhelming hatred of faeries? How many books have you read where the heroine sits on the edge of all things dirty (drugs, drinking, smoking, etc), yet doesn't spare them a thought? And, goodness, how many books have you read where the all-too-beautiful supernatural guy is
not
the man of her dreams?
Nope. I said it! In this book, the girl goes for the facially-pierced, black-haired best friend instead of the glowing Summer King, despite her otherworldly lust toward him. It was surprisingly...refreshing. Unique. It drew me in to the rest of the story, because I didn't trust or like Keenan from the beginning, but I've always liked the other guy, Seth.
That's one thing, though, that was lacking in the characterization area: trust. I was constantly in mistrust of Keenan and all the other faeries, because at first Aislinn was. That never left me, even when I knew it should have. I sometimes didn't trust Seth to be Seth, because sometimes he wasn't. And at some points, I was even confused with Aislinn's actions.
This was remedied somewhat by the switching perspectives, or at least it was meant to. Marr divided the story between any and all the characters who struck her fancy, it seemed, but it worked. At times, there would be a brief moment of confusion as she switched from one setting to another or one conversation to another. But it was always resolved, and overall I liked the effect.
The ending was perfect. It seemed to resolve much, and I was satisfied. Obviously, another book or two is necessary, but I'm not left disparaged because of cliffhangers. Overall, I think this book is definitely worth reading. It's a good take on the supernatural in the modern world, without frills or fluff, and very frank. The tone can be dark or moody or joyous or optimistic--but regardless of tone, it is all very well done.