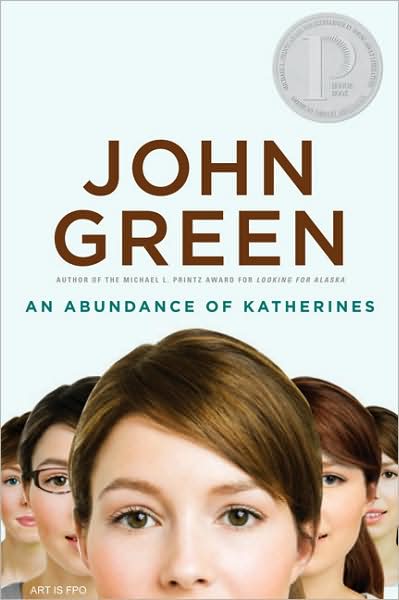 Synopsis:
When it comes to relationships, Colin Singleton's type is girls named Katherine. And when it comes to girls names Katherine, Colin is always getting dumped. Nineteen times, to be exact. On a road trip miles from home, this anagram-happy, washed-up child prodigy has ten thousand dollars in his pocket, a bloodthirsty feral hog on his trail, and an overweight, Judge Judy-loving best friend riding shotgun--but no Katherines. Colin is on a mission to prove The Theorem of Underlying Katherine Predictability, which he hopes will predict the future of any relationship, avenge Dumpees everywhere, and may finally win him the girl.
Rating:
Character Development: 8/10
Originality: 10/10
Overall Enjoyment: 8/10
Ending: 9/10
Voice: 10/10
Setting: 10/10
Recommendation: 8/10
Total: 63/70
Grade:

A+
Age Appropriate?
Cussing:
Frequent in both narration and conversation; can be offensive, sometimes surprisingly...er...disturbing. Hehe. To read more about the language, check out my review of Green's other book, Paper Towns,
here
.
Alcohol, Drugs, etc:
Minimal teenage drinking and smoking, not by main characters.
Sexual Content:
Yes, in both the plot, conversation, and narration. One real scene that is sort of graphic.
Disturbing Images/Violence:
None, really, unless you count a huge teenage boy brawl.
Review:
John Green obviously has a taste for the bizarre. Just by reading the synopsis, I recognized Green's style: unusual, interesting, and full of odd coincidences. Once again, he has succeeded in providing an entertaining, laugh-out-loud read chock-full of intellectual remarks, witty humor, and strange situations.
Like in
Paper Towns
, the voice of the story is hilarious and harsh. At once cynical and whimsical, it was hard to put down and impossible not to love. The characters were wacky but I had no trouble sympathizing with them. I particularly liked Lindsey and Hassan, both realistic and funny people. Colin was sometimes annoyingly immature or whiny; after a while, memories of Katherine the Nineteenth got slightly monotonous. Yet the story was still a success.
Woven into the story almost seamlessly were footnotes and graphs and equations that Colin used in his life. Countless useless facts and background into conversations were included outside of the storyline, but still somehow connected wonderfully and added to the feeling of child prodigiousness. There was lots of math--ick!--but the reader didn't actually have to
understand
any of it (phew!). I cannot imagine how John Green wrote from the perspective of a prodigy and succeeded.
He
has to actually know all of this stuff, has to
understand
it. All of the research involved, the planning, must have been a complicated process indeed. But it worked. Without a doubt, it worked.