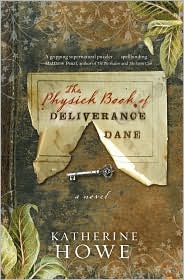 Synopsis:
Connie Goodwin should be spending her summer doing research for her Ph.D. dissertation in American History. But when her mother asks her to handle the sale of Connie's grandmother' abandoned home near Salem, she'd compelled to help. One day, while exploring the dusty bookshelves in the study, Connie discovers an ancient key, and within the key is a brittle slip of paper with two words written on it: Deliverance Dane.
Along with a handsome steeplejack named Sam, Connie begins to research Deliverance Dane. But even as the pieces fall into place, Connie is haunted by visions of long ago, and she fears that she is more tied to Salem's dark past than she could have ever imagined.
Rating:
Character Development: 10/10
Originality: 8/10
Overall Enjoyment: 2/10
Ending: 6/10
Voice: 9/10
Setting: 7/10
Recommendation: 4/10
Total Score: 46/70
Grade:

B
Age Appropriate?
Cussing:
Moderate; not much.
Drugs, Alcohol, etc:
All characters are above drinking age, but yes, there is drinking.
Sexual Content:
Implied, but then again, the characters are all adults.
Disturbing Images/Violence:
Hanging.
Written for adult audiences, though appropriate and readable by anyone over the age of about 15.
Review:
The Physick Book of Deliverance Dane
was extremely hard to get into; I think reading the first one hundred pages took me about three weeks, during which time I read approximately six other books (a low number for me). It consumed time I wish I didn't have to spend reading it. Until Sam came into the story, who was a lively character, I thought I might die from boredom.
Connie was...normal. A graduate student at Harvard, nothing
exciting
or
interesting
ever happened to her in the beginning. I mean, even the discovery of the mysterious key mentioned in the synopsis seemed dull and lifeless.
Once Sam was in the picture, I was only partially more interested. There were portions where I really wanted to figure out the ending, how she found the book, what was going on. But then, along would come an "Interlude"--almost every other chapter was a brief episode out of one of the lives of the decedents of Deliverance Dane. These were dreadfully boring, and I hated reading them. They cut out my already limited enthusiasm for the book.
I thought the plot was strong enough, and made a good story overall, but some things Connie said and did made no sense to me. When something that had been super important was resolved, she wouldn't make a big deal about it, or else something that seemed tiny to us was suddenly of massive importance. It was frustrating and slow to read.
However, Howe's writing is something to be admired. The almost painful detail and humanity with which she imbued her story added some kind of life and a lot of believability. She would describe, with such vivid accuracy, human habits and little pieces of nature with fascinating talent. This level of imagery surely could only be obtained through patient observation. Along with the amazing level of research that went into the story--her protagonist is an American History major, after all--made the book astonishing, baffling, even a little overwhelming.
It was all a bit too much to absorb, lacking in interest and life, but I definitely give Katherine Howe a thumbs up for her unwavering precision in her writing.