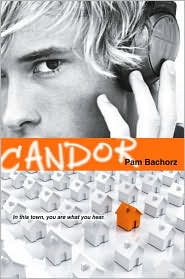 This book will be available September 9, 2009.



Synopsis:
Everything is perfect in the town of Candor, Florida. Teens respect their elders, do their chores, and enjoy homework...because they're controlled by subliminal messages. Only Oscar, the son of the town's founder, knows how to get kids out--for a price. But when Nia moves into town, Oscar is smitten. He can't stand to see her changed. Now he must decide to help Nia escape Candor and loose her forever, or keep her close and risk exposure...
Candor
takes the classic sci-fi themes of conformity and mind control and turns them on their heads.
Rating:


Character Development: 8/10
Originality: 8/10
Overall Enjoyment: 9/10
Ending: 7/10
Voice: 10/10
Setting: 10/10
Recommendation: 9/10
Total Score: 61/70
Grade:

A
+
Age Appropriate?


Cussing:
Some, but not too bad.
Alcohol, Drugs, etc:
Some teen drinking.
Sexual Content:
In conversation and some narration.
Disturbing Images/Violence:
Not much.
Review:
As far as dystopian sci-fi goes,
Candor
was a success. I loved Oscar, for all of his quiet rebellion and purely human thoughts, and I loved Nia, for having a dark soul in a freshly-laundered white world. I thought Pam Bachorz's creation of both characters was brilliant, and the development of their relationship--while quick--was believable and beautiful.
From the very beginning, I absolutely hated Mr. Banks, Oscar's father. He just seemed so untouched by the utter destruction of nature that he caused. But somehow, I couldn't wish for harm to come to him, because Oscar loved him while he hated him. In Mr. Banks' creepy Florida dream made up of flawless molded people, families bought their mindlessness. He pretty much made a living off the saying "Ignorance is bliss".
Nia and Oscar's love seemed natural but dangerous. When both people are fighting the sick brainwashing constantly while severely testing Candor's control, the reader knows all cannot go well. There is a certain hopelessness about the whole book that grows as the story progresses, as person after person gets struck down by Candor.
All there is to hope for is a sequel. Ah!