Kate Constable
is the Australian author of several YA novels, including: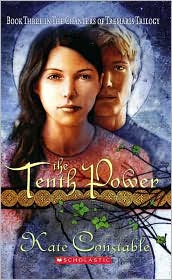 During your childhood, you moved around a lot in Australia and Papua New Guinea. How did this experience affect your writing?
I think it made me into a writer. It certainly made me into a reader! No matter how many times we moved house and changed schools, I could always find refuge in the world of books and imagination. A friend once suggested that growing up in New Guinea made me want to write about other strange and exotic worlds in fantasy; I'm not sure if that's true, but it might be. I do think that having such an eventful childhood has made me more open to the possibility that anything can happen, which is useful for a writer!
A lot of children's and YA writing seems to be about the protagonist's need to break away themselves from others
and establish themselves as an individual, to discover who they really are, but I've realised that my writing tends to focus more on the search for like-minded companions, the need to make a secure home, to find a place to belong. (Maybe that's actually the same thing, but from a different angle.) I wonder if that stems from my wandering childhood and some kind of longing for a mythical home.
Why did you start writing The Singer of All Songs?
I'd been slogging away for years on an adult novel which had been rewritten so many times I was completely sick of it, and someone suggested I put it away for a while and write something totally different. And YA fantasy was about as different from this angsty adult novel as could be. I never intended to show Singer to anyone, I just wrote it as a break from so-called "serious" writing, but it was so much fun to write, I never went back to writing for adults. It was like a light went on: "Oh, that's right, this writing business is supposed to be enjoyable, I remember now!" It was wonderful to have that freedom, where anything could happen in the story, it was like discovering the ocean after splashing in a bathtub for years. If that makes sense.
How did you come up with the awesome names in your books, like Darrow and Calwyn and Mica?
Quite a lot of the place and character names in Tremaris came from worlds I invented as a teenager. I used to write what's now called fanfic, though it didn't have a name then and I would never have shown it to anyone. So I made up a lot of places for my fanfics to happen and I ended up reusing many of the names: Antaris, Kalysons, Spareth, Gellan. Mica and Tonno were characters in a space opera that never quite got written. Darrow was named after Paul Darrow, who played Avon in a 70s sci-fi series called Blake's 7 which I was addicted to (I was in love with Avon). And Calwyn came from a street sign I drive past on the way to my mum's house, Olwen St in Nunawading in Melbourne!
The cultures of Tremaris are very diverse. What inspires you to come up with the Tremaris world and its people?
As I said, I wrote a lot of fanfic-type stuff as a teenager, mostly sci-fi inspired by Dr Who and Blake's 7, so that involved quite a bit of world-building. I always enjoyed that part of writing and I still do, I love writing notes about geography and religious beliefs and the "look" of an imagined country or city, even if none of it makes its way into the finished story. I probably start with a "look" most times, actually. The Palace of Cobwebs in The Waterless Sea has elements of Moorish architecture, Uluru, and ancient Japanese culture; in The Taste of Lightning, Cragonlands was a mix of Tibetan and Afghan elements. Again, it's very freeing to mix and match things that have caught my eye without feeling that everything has to be particularly accurate or realistic!
What most surprised you about being a published author?



I didn't expect the amount of feedback -- letters and emails I've received from readers everywhere. I've had such wonderful, inspiring and moving emails from readers, it's like finding lovely presents in your letterbox.
What is your writing process?



Um.... there's alot of staring out the window...!
I tend to spend a long time mulling before I start actually writing -- thinking about my characters and their situation, turning over story ideas. I make lots of frantic notes, most of which are never referred to again. Then I'll write an outline, which is very rough to begin with and then is rewritten with increasing detail. And then I start at the beginning; then start again; then start again.... I always find it easier to rewrite something rough than make it perfect the first time, I find it quite liberating to say, this doesn't matter, it's just a rough draft -- then I can get going. I might do a dozen drafts before I'm happy.
Where do you do most of your writing?



I'm very lucky to have a bungalow in the backyard which is my study. It's separate from the house, which is important, otherwise I have people coming in and interrupting me all day! I look out on our jungly garden and sometimes the washing flapping from the line, which is very soothing. It's a lovely place to work and I've written (gulp) six books there in the five years since we moved to this house. The bungalow was one of the main reasons we bought this house, actually!
What was the most challenging thing for you during the whole process--writing, editing, publishing, etc?



I was always very shy about showing my writing to people before I was published, so being edited was quite confronting at first. When manuscripts came back with red pen marks all over them, I felt quite depressed! It was like getting a bad mark on an essay at school. But I soon realised how much I was learning about how to improve every aspect of my writing. Working with the wonderful editors I've had has been an invaluable education. I never formally studied writing or taken any courses, so I owe a great deal to my editors for teaching me how to tighten up my writing, how to structure a plot, and loads more besides.
On your site, there is a section labeled "Find out what Kate is writing now!" What

are

you writing now that comes up under that tab? :-)



Oh, er, gulp! Must get onto that... Yes, that section is woefully out of date, isn't it! I was posting up chapters of
TheTaste of Lightning
for Tremaris fans in America who couldn't access the book, but that was about five books ago! Thanks for drawing that to my attention, I'll make sure I update it with something slightly more current!
Can you tell us a bit about your books other than Chanters of Tremaris?
Apart from the Tremaris books (including
The Taste of Lightning
), I've written two and a half books in the Girlfriend Fiction series, a collaboration between
Girlfriend
magazine and Allen & Unwin to provide stories for teenage girls with a distinctive Australian voice. i was nervous about writing real world stories at first, but the Girlfriends have been hugely enjoyable to write, especially the forthcoming
Dear Swoosie
. which I wrote together with my good friend Penni Russon (who wrote the Undine fantasy trilogy). My other girlfriend titles are and
Always Mackenzie
and
Winter of Grace
. A time-slip fantasy called
Cicada Summer
has just been published in Australia, about a grieving girl who moves to the country and explores a spooky old house, where she finds an unexpected friend. And I'm currently working on a book, tentatively titles
Crow Country
, which is a fantasy (again with time-slip elements) set in Australia. I hope it will be published next year.
KATE CONSTABLE was interviewed on July 27th, 2009 by READING ROCKS.