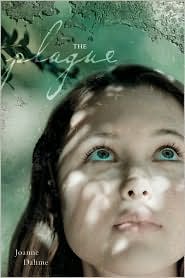 Synopsis:


Fifteen year-old Nell's uncanny resemblance, to King Edward the Third's daughter Princess Joan, brings the orphan and her brother George from the murky streets of fourteenth century London to a grand calling--a means of protection for the Royal Family by acting as a body double in times of danger
.


But as the plague that claimed the lives of Nell's parents continues to ravish England and France, and eventually takes Princess Joan herself, Nell is forced by Joan's brother, the Black Prince, to take on the princess's identity for real. Nell mus carry out a plan to expand the empire by marrying the Prince of Castile. Knowing she could never permanently play the role of the Princess, Nell is determined to return to England and report the truth of the Princess's death to the King.
With the help of a number of surprising characters--including a Spanish minstrel, a monk, a gravedigger, a band of merchants--and most devotedly her brother and the young soldier Henry, Nell must escape not only the Black Prince and his army of rats, but the plague as well...


Rating:


Character Development: 6/10
Originality: 8/10
Overall Enjoyment: 7/10
Ending: 6/10
Voice: 9/10
Setting: 8/10
Recommendation: 6/10
Total Score: 50/70



Grade: B



Age Appropriate?


Cussing:
None.

Alcohol, Drugs, etc:
None.

Sexual Content:
None.

Disturbing Images/Violence:
Some scenes of plague and sickness and death.
Review:
While mildly entertaining, I found
The Plague
to be unrealistic and strangely paced. The author did not take enough time to explain her events and make them meaningful, while at other times she spent pages ranting about nothing in particular or repeated information unnecessarily. I think the plot in itself was a good one; however, the size and style of the book and the writing did not do it justice.
While the voice was eloquent and attractive, I found the characterization lacking. I did not believe a single one of the relationships involved--not between Nell and her brother, not between Nell and the Black Prince, not between Nell and Henry, and most certainly not between Nell and the Princess. The entire story is built around that single relationship, yet there was not one scene that led us to understand the girls' love for one another.
In general, I was disappointed. It was a fast read, and while I wouldn't read it again, I think it presents an accurate representation of the time period (as far as I know, of course). The history involved seems accurate and the author appeared confident about this in her writing. The book was interesting in its own way, but it was somehow dream-like, childish, and unbelievable. Unless you absolutely adore quick reads about the Black Death and princesses, pass this one up.