Pam Bachorz
is the author of
CANDOR
, a YA novel that will come out in September 2009

.
Read the first chapter here!
Read my review here!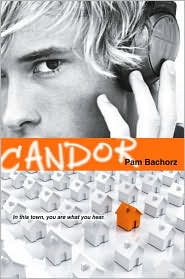 You lived for a time in Celebration, Florida, Disne
y's planned community. How did this inspire you to write
Candor
?



Celebration has these mosquito trucks that run once or twice a day, spraying citrus spray through the town in an attempt to fight back to mosquitoes. One night I was walking the dog and the truck drove by. We were coated in the spray and I wondered what was really in it. What if, I wondered, it had Prozac in it? Maybe that's why everybody is so happy and friendly! From there it wasn't a huge jump to brainwashing (at least for somebody as paranoid as me!). And then a few nights later I saw a lone girl skateboarding down the sidewalk, late at night. I had the brainwashing. And I had my main character's love interest, Nia.




What authors/figures in literature do you most look up to?
Like every author, I'm a huge reader. It's tough to narrow it down. My sentimental favorite is L.M. Montgomery, who wrote the Anne of Green Gables series. Some of my current-day favorites are Gail Giles, Jeanne du Prau, Marcus Zusack, and Neal Shusterman.
What are your favorite young adult books?
Oooooo, very hard to pick a few. A few that still stick with my are "Unwind" by Neal Shusterman, "The Adoration of Jenna Fox" by Mary E. Pearson, the "Midnighters" series by Scott Westerfeld, and an "An Abundance of Katherines" by John Green.
Are any of your characters based off of people you know?
No, not really, though I'm sure bits and pieces of every person I know did sneak in here and there. And there's probably more of me in any of my characters than I choose to admit!
Why did you choose the name Candor for the "perfect community"?
I chose the name Candor for a few reasons: first is the play on words. Candor means "truth", essentially, and yet this town is about anything BUT truth! Also, it refers to a m ain crisis of the book, when my main character finally admits a critical truth to his love, Nia. Finally, I just love how the word sounds: hard, simple, to the point.
Have you ever tried to create subliminal Messages with music? Does it work? :-)
Let's see. Just turn up your speakers, listen for five minutes, and let me know... :)
What kind of research did you do while writing
Candor
, if any?
I researched the legality of brainwashing, actually! I'm no lawyer, but as far as I can figure, Campbell Banks is doing nothing illegal with his particular brand of brainwashing in Candor. He's not broadcasting it, he's feeding it to people via locally-played music. I was so worried that this question would come up when I tried to sell it--but in actuality, nobody has ever asked me whether the brainwashing in Candor would be against the law.
What are you most excited about for the publication of your first book?
I like thinking about the people in my acknowledgements--the people who meant so much to me, growing up, and maybe never realized it. Like, my elementary school librarian is thanked in the acknowledgements, and I am sure she will be very surprised. I wish I could personally hand each of those people a signed copy and thank them. Alas, none of them live near me anymore! (I moved away, not them!)
What are your biggest fears concerning the publication of your first book?
I don't want my readers to be bored. That would be the worst news, to me. I want people to be engaged and react to the book, which I think is the job of any kind of art.
What is your favorite quote (while avoiding spoilers) from
Candor
?
I had a hard time with this one! So I think I'll go with a quote that sums up some of the weight on Oscar's shoulders, talking about his life and living in Candor:
"Mom's gone. But everyone else wants to live here."


PAM BACHORZ was interviewed on July 27th, 2009 by READING ROCKS.