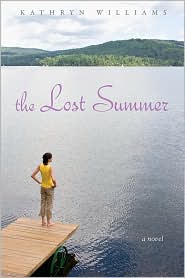 Synopsis:
For seventeen-year-old Helena Waite, summer means more than just a break from school--it means Southpoint. Each July, Helena returns to the summer camp with its familiar routines, landmarks, and faces. This year, however, she is returning not as a camper but as a counselor. The only downside? Her best friend, Katie Bell, is still a camper.
As the days begin to heat up, Helena discovers that the innocent world of bonfires and field days has been pushed aside for late-night pranks on the boys' camp and skinny-dipping in the lake. To fit into this new life, Helena finds herself turning her back on Katie Bell, and when a longtime crush becomes a romantic possibility, life gets even more confusing. With the carefree summers of her past slipping through her fingers, Helena begins to wonder why growing up means having to change.
Told with honesty and heart, Kathryn Williams's second novel tackles the timeless themes of coming-of-age, summer romance, and, of course, the power of friendship.
Rating:


Character Development: 8/10
Originality: 7/10
Overall Enjoyment: 7/10
Ending: 5/10
Voice: 9/10
Setting: 10/10
Recommendation: 7/10
Total Score: 53/70



Grade: A



Age Appropriate?


Cussing:
Pretty frequently, but mostly just in conversation.
Alcohol, Drugs, etc:
There is much underage drinking, smoking, and use of chewing tobacco.
Sexual Content:
One actual scene, but often discussed and some not-quite-but-almost PG-13 stuff.
Disturbing Images/Violence:
Nothing.

Review:

This steady-paced tale of summertime, independence, and growing up is the perfect camp novel. It was fun, witty, and entertaining with a heavy helping of reality. If you love summer camp, you should definitely pick up
The Lost Summer
.
Helena, the protagonist, is very, very,
very
average--and I loved it. Her speculations and worries about her body and her life and everything were so entirely normal, I felt like I was actually reading about a real person, not a figment of someone's imagination. Though the story is as sad and confused as any teenager's world, it is also hopeful, uplifting, and cathartic.
Through wonderful imagery, Kathryn Williams creates a beautiful disconnected world in Camp Southpoint. She turns one girl's (nearly) ordinary summer camp experience into an adventure, a roller coaster of emotions, chronicling the most important transition in a girl's life: from child to adult. The only difference is that, at Southpoint, that change is visible and solid.
The Lost Summer
is a quick read that is worthy of a few lazy summer hours out by the pool, and essential for anyone whose home-away-from-home is at a cabin at a summer camp.