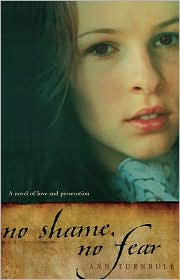 Synopsis:

It is 1662 and England is reeling from the aftereffects of civil war, with its clashes of faith and culture. After completing his studies, seventeen-year-old Will returns home to begin an apprenticeship arranged by his wealthy father. Susanna, a young Quaker girl, leaves her family to become a servant in the same town. Will and Susanna meet and fall in love, but can their bond survive--no matter what? Theirs is a story that speaks across the centuries, telling of love and the fight to stay true to what is most important, in spite of parents, society, and even the law.
Rating:
Character Development: 10/10
Originality: 9/10
Overall Enjoyment: 9/10
Ending: 9/10
Voice:8/10
Setting: 10/10
Recommendation: 9/10
Total: 64/70
Grade: A+


Age Appropriate?

Cussing:
Very small amount.
Alcohol, Drugs, etc:
Not much, but some teen drinking, but it's culturally accurate for the novel
Sexual Content:
Limited, some speculation and discussion
Disturbing Images/Violence:
Mild child abuse, sickness, some faintly disturbing prison scenes.
Review:
The story of Susanna and Will is a tender one. I was fascinated by their world and their tenacity. Ann Turnball's writing captured the time period and the woes and sorrows of the Quakers in a way that made for a fantastic novel. I was blown away by my love for both Susanna and Will and all the characters. They were real, interesting people that captured my attention.
While primarily a pleasant love story,
No Shame, No Fear
is also about persecution. The Quakers are an intriguing people with a troubled history. Their woes created the perfect setting for Will and Susanna's story. And while it sounds rather usual--high-class boy falls in love with low-class girl and all the odds are against them--it truly is an unconventional tale.
An impressive, engrossing novel,
No Shame, No Fear
is guaranteed to give you a satisfying experience with more life in its pages than most historical fiction books. It will leave you yearning for more.