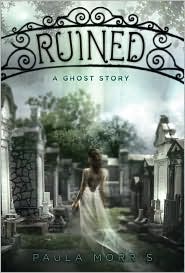 Synopsis:
Rebecca Brown couldn't feel more out of place in New Orleans, where she comes to live while her dad is away on business. She's staying in a creepy house with her aunt Claudia, who reads tarot cards for a living. And at the snooty prep school, a pack of filthy-rich girls treat Rebecca like she's invisibly. Only gorgeous, unavailable Anton Grey seems to give Rebecca the time of day, but she wonders if he's got a hidden agenda.
Then one night, among the oak trees in Lafayette Cemetery, Rebecca makes a friend. Sweet, mysterious Lisette is eager to show Rebecca the nooks and crannies of New Orleans. There's just one catch.
Lisette is a ghost.
A ghost with a deep, dark secret, and a serious score to settle.
As Rebecca learns more from her ghost friend--and begins to trust Anton Grey--she uncovers startling truths about her own history. Will Rebecca be able to right the wrongs of the past, or has everything been ruined beyond repair?
Rating:
Character Development: 5/10
Originality: 6/10
Overall Enjoyment: 6/10
Ending: 8/10
Voice: 4/10
Setting: 10/10
Recommendation: 7/10
Total Score: 46/70
Grade: B
Age Appropriate?
Cussing:
Some, but not much.
Alcohol, Drugs, etc:
Several scenes of teen drinking.
Sexual Content:
None.
Disturbing Images/Violence:
Several murders/blood/etc.
Review:
With some interesting characters, creepy situations, and tumbling roller-coaster of a plot line,
Ruined
was an easy book to get into. Unfortunately, it was also quite easy to get out of; I was often distracted reading some of the longer rants, and much of the writing is repetitive.
However, the setting added a ton of flavor to an otherwise colorless novel. New Orleans becomes an enigmatic place of hierarchy and mystery and voodoo magic. Not what I was expecting of this story. I loved the atmosphere of it, the spark. There's nowhere else in this world like New Orleans, and there's nowhere else where this story would be believable.
Much of the characters in
Ruined
were thoroughly one-dimensional, including the protagonist. Rebecca was flat and dense and annoying from beginning to end. Her emotions were self-centered and blind. There was no spark of relationship or affection between her and any of the other characters, even when it is obviously supposed to be there. The only emotion I think was really captured in this book was, frustratingly, anger.
But, on the positive side, it made for a fascinating, complex ghost tale that really shows an intricate knowledge of New Orleans, and a respect for its diversity and history. Morris taught me so much about that city that I never could have guessed, and made it into a beautiful place despite the negative affects of Katrina. If you like Mardi Gras, this book is worth it just for the magical descriptions of the carnivals and the city caught up in celebration.