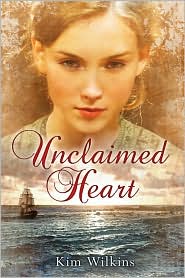 Synopsis:
In 18th century Britain, what a young lady wants isn't always what she gets--unless she's willing to pay a price.
Constance has it all--except the one ting she wants most: her mother. So she sneaks aboard her father's merchant ship, defying all rules and--more importantly--betraying her father's invaluable trust. What she doesn't expect to find is Alexandre, a handsome stowaway with a sinister past.
An irresistible force draws Constance to Alexandre, despite her attempts to tear herself away. Loving him would be scandal, but Constance is bound to Alexandre by more that passion; the valuable pearl she hides for him represents his only chance at freedom.
Alexandre doesn't just lay claim to Constance's heart. He's also the one person who can solve the mystery behind her mother's disappearance.
Rating:
Character Development: 8/10
Originality: 6/10
Overall Enjoyment: 9/10
Ending: 9/10
Voice: 10/10
Setting: 10/10
Recommendation: 9/10
Total Score: 61/70
Grade: A+
Age Appropriate?
Cussing:
None.
Alcohol, Drugs, etc:
A few drinking scenes, but not unappropriate.
Sexual Content:
Maybe just a little bit of speculation...?
Disturbing Images/Violence:
One brief scene of child abuse.
Review:
I think I've discovered that I really enjoy pirate/seafaring love stories.
Unclaimed Heart
was a satisfying, easy read full of adventure and romance. I was afraid that it would be cheesy, like so many other similar stories, but it definitely was not. The characters were likable and believable, and Constance and Alexandre's relationship was sweet and well-developed.
Kim Wilkins writes with exciting foreshadowing and many twists of plot that keeps this story unique and alive. The alternating perspective of all the major characters gives it layers and depth and understanding. It was nice to get to know characters who were not the two main lovers. The careful construction of each of them made it not only plausible, but also made it ring true to me.
Full of heightened emotion, dazzling ocean settings, and startling romance,
Unclaimed Heart
is a lovely read for fans of historical nautical love stories.