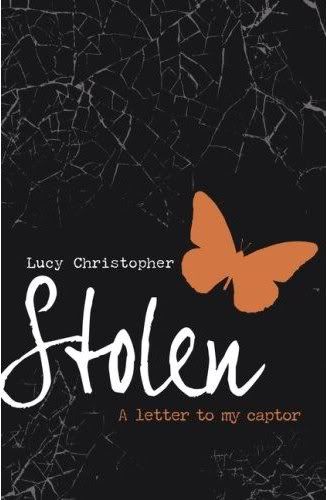 Grade: High A+
Synopsis:
You saw me before I saw you.
A girl: Gemma, at the airport, on her way to a family vacation.
You had that look in your eyes.
A guy: Ty, rugged, tan, too old, oddly familiar, eyes blue as ice.
Like you wanted me.
She steps away. For just a second. He pays for her drink. And drugs it.
Wanted me for a long time.
He takes her, before she even knows what's happening. To sand and heat. To emptiness and isolation. To nowhere. And expects her to love him.
Rating:
Character Development: 10/10
Originality: 10/10
Overall Enjoyment: 9/10
Ending: 10/10
Voice: 9/10
Plot: 9/10
Setting: 10/10
Total Score: 67/70
Obtained:
Free ARC sent by publisher (Chicken House)
Age Appropriate?
PG-13
(bordering on R)
Language:
Frequent conversational cursing.
Drugs, Alcohol, etc:
Scenes of teen and adult drinking and drunkenness, teen and adult illegal drug use, drug dealing, etc. Teen and adult smoking.
Sexual Content:
Allusions to teen sexual activity, mentions/discussions of rape and prostitution.
Disturbing Images/Violence:
Stalking and unhealthy obsession, kidnapping, mental instability, some violence, mentions of child abuse.
Review:
Gemma's tale is hauntingly beautiful, vividly painful, excruciating, and overwhelmingly conflicting. When she is displaced from her old life into this new world of harsh beauty, survival, and confusion, she is forced to rely on her captor, a strange, lost young man in search of a life he feels he can only share with Gemma.
Written ingeniously in second person,
Stolen
is at times uncomfortably intimate and raw. As Gemma explores her memories and recounts the events of her capture, strange things begin to happen to us and to her. The hot, unforgiving Australian landscape starts to look more and more like a home full of life and comfort, and Ty--stalker, kidnapper, loner--becomes, impossibly, something so much more pure--protector, artist, companion.
This journey is complicated, emotional, original, and painful. With great respect for the deserts of Australia, Lucy Christopher has created a spectacular yet horrifying story of an unwilling adventure; an unusual, twisted relationship; complex, real-life characters; and a world unlike any other right in the middle of the outback. Read it.
LINKS:
Lucy Christopher