With another September comes another Banned Books Week (Sept 25 - Oct 2). In the blogosphere, this really means another
Banned Books Month
.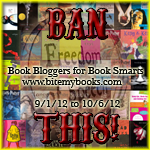 Here at Reading Rocks, we would are going to participate by putting together a selection of Banned Books information, essays, guest blogs, articles, photos, and general awesomeness for your viewing/reading pleasure, starting with this awesome button...
Enjoy your week, everybody!
Read something forbidden

this month!
PS - if you or someone you know has something you want to say about banned books, banning books, or censorship, email us at shakespearesmuse.tbc@gmail.com! Thanks.