A compilation of all the sites we have found useful in all our online literature adventures. From other reviewers to author's personal pages to publishers and purchasing information, this is a wonderful resource for feeding your passion for reading. Enjoy!
See our library of highly recommended literature at
LibraryThing
!
Or, search our library!
Author and Book Sites:
Other Awesome Book Sites
These are some rockin' book bloggers that deserve recognition: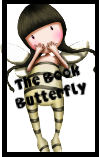 Bookworm Nation
Crackin' Spines and Takin' Names
Debbie's World of Books
Rebecca's Book Blog
The Last Blog in the Universe
The O.W.L
Indigo Hues
PS - if any of the above listed book bloggers have a button you would like us to include, please comment or email me a link or a code. Thanks!






Are you a blogger/author/publisher/book fanatic? Want your site to appear here? Comment or email us a link!